II.13. Matches' punching die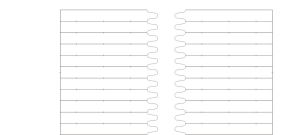 Specified for the area of 52mm x 48mm
The punching die – a single comb-shaped row of matches presented in the technical drawing. 
The dimensions of a single row without sulfur: length 52 mm width 41,5 mm
The width of two reversely combined rows without sulfur: 46 mm
The width of a single match: 4.72mm ( 52 mm for 11 matches )
The length of a match plus a sinusoidal match head: 4,5 mm , altogether 41.5mm
The thickness of a single match: 1mm
The bridges conjoining 3 pieces x 0,5 mm long , 0,20 mm deep, and they form a single line after being arranged reversely in a stock-pile.  
The brow of sulfur is 0,5 mm on each side of the sinusoidal match head. 
The dimensions of a single row of matches with sulfur: length 52 mm, width 42 mm
The width of two reversely conjoined rows with sulfur: 47 mm
The field margin defined for 48 mm is 0,5 mm on each side of the reversely conjoined rows. 
The length of the match head sulfur: 4 mm
The thickness of the match head with sulfur plus doubled margin 0,5 equals 2 mm. 
The common practice in suphating process provides the thickness range of 2,1 -2,2 mm
The overall dimension of two reversely applied rows of matches in cross-section is 2,5 mm with fault tolerance of up to 2,7 mm


Final remark
The material and all dimensions in the box as well as all additional elements must be adapted to mass production.
Special Project for Tobacco Industries. Copyright 2004 - 2012. Mazur Office. All rights reserved.
Patented by Mazur

The website www.mazur-poland.com is only for informational purposes concerning patent, technology and product. The used graphics and texts are only for
company-internal illustration.