II.9. The lock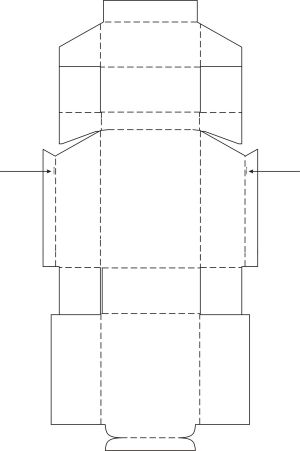 The sample models of the box with a lid herby presented, utilize a single lock solution, i.e. the pressure through the upper cap in 'closed' position. Because this type of lock might be insufficient a new lock was designed independent of the position of the upper cap. The solution is as follows: on the edges app. 0,1 mm below the ridges of the side walls, from the inside of the box, in its upper side ( see drawing beside) there are extruded projections app. 3-4 mm long ( in other words it is a bulge app. 0,25 mm  long along the length of app. 3-4 mm   alongside the creasing, which overlaps the hinged bottom wall at its furthermost upper corners and is  durable enough to be used app. 120 times efficiently.)   
The extrusion in performed together with die-stamping and press forming of the box by means of an ordinary creasing knife. Opening and closing the box with the use of such a type of lock is functional and easy for the user while there is no need for unnecessary movements except for drawing back and forth of the hinged lid. It is also optimal in terms of mass production and durability.
The lock has been designed and tested after the sample models were produced, and therefore they were not included in the samples. According to the test results, an independent, additional lock of the top cap of the box is indispensable for better functionality and comfort of use.
Special Project for Tobacco Industries. Copyright 2004 - 2012. Mazur Office. All rights reserved.
Patented by Mazur

The website www.mazur-poland.com is only for informational purposes concerning patent, technology and product. The used graphics and texts are only for
company-internal illustration.