II.7. Lighter (srm )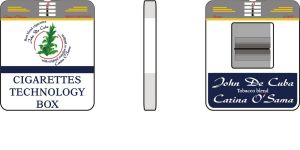 the sample model of the lighter has been made on the basis of a similar, existing lighter made by SRM company, the USA. However, the lighter presented differs in size, mainly the breadth, which is up to 5,2 mm and the overall dimensions adapted to convexity of the glass. Said lighter is also decreased in size by 1mm on each side in proportion to the glass convexity angle for unconstrained positioning both on the flat surface of the flaps as well as under the convexity of the transparent glass. That is also why the lighter features all rounded corners. The lighter presents comparatively vast flat space both for commercial purposes and to locate a warning notification, which can match with the overall graphic design of the box while being visible through the transparent glass and constituting an integral element of the box's design. 
The lighter is characterized in having a flat immersed sliding switch. It was specially designed because of relatively small thickens of the lighter ( 5,2 mm) as well as for functionality and safety reasons. A piezoelectric igniter was inserted at the back of one side, located centrally so that the front part is entirely available for commercial purposes. The sliding method of the switch precludes accidental ignition when in the additional storage space or anywhere else. According to the project, the lighter should be durable, resistant and very light. It main feature should reside in the lowest market price, which leads to large-scale use with cigarettes' brand name printed on.   As to the positioning of the lighter, the tests show that the very spot is the place of predominant lighter storage by smokers. Thanks to hereby presented solution the users will entertain the possibility of having a lighter constantly at hand, originally packed with cigarettes, visible through the transparent glass and featuring the brand name of their favourite cigarettes.
Special Project for Tobacco Industries. Copyright 2004 - 2012. Mazur Office. All rights reserved.
Patented by Mazur

The website www.mazur-poland.com is only for informational purposes concerning patent, technology and product. The used graphics and texts are only for
company-internal illustration.