II.5. A box with a lid, a large convex glass, and a lighter - technical description- a blank with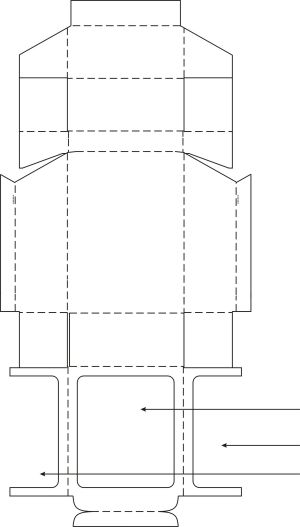 A box with a lid, a large convex glass, and a lighter - technical description- a blank with  

The blank of the following variation is dimensionally similar to previously made stiff cigarette boxes and has been made of the same paper type. 

The actual dimensions are given in the technical drawings. The sample models were made based on these. 

The main innovations in the folding system of the outer shell of the box as well as the interior are as follows: 

- the box combines all mentioned above features as well as, 

- a cut-out to insert a large PCV glass
a cut as described above in the large flat glass variation  

- a large PCV glass
a large transparent PCV glass, blister type, between 0,20 mm to 0,25 mm thick is durable enough to be installed in the hinged lid. The dimensions are increased by app. 3 to 4 mm on each side of the glass for insertion or hot-welding purposes.  The depth of the glass is app. 2,8 mm for smooth radius both in the corners as well as on the relief edges. The smooth radius enable ease of use and are pleasant in touch. Additionally, when pressed inside with strength and deflected the glass easily regains its original shape, as opposed to flat glasses. For unproblematic insertion in mass productions it is advisable to decrease the convexity by app. 1 mm, on each side of the glass, in proportion with the cut in the lid. 

- a lighter
the suggested model, a plastic piezoelectric lighter should have rounded corners for unconstrained positioning within the spherical vault of the evenly edged convex glass. The lighter should not exceed 5,2 mm breadth and should be shortened by app. 1mm along its exterior angles in proportion to the glass convexity. Relatively large flat surface of the lighter in connection with the glass provide high crushing-resistant surface both vertical and horizontal. The detailed description of the lighter in LIGHTER section. 

- a gadget
should be of similar external overall dimensions and features as a lighter.  It can also be packed tight taking into consideration the customer's unconstrained use of the box.
Special Project for Tobacco Industries. Copyright 2004 - 2012. Mazur Office. All rights reserved.
Patented by Mazur

The website www.mazur-poland.com is only for informational purposes concerning patent, technology and product. The used graphics and texts are only for
company-internal illustration.