II.4a. A box with a lid, a small convex glass, a gadget and a commercial brochure - technical descri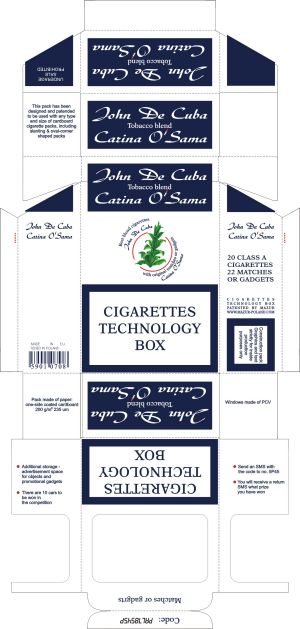 A box with a lid, a small convex glass, a gadget and a commercial brochure - technical description - a blank with an overprint in the box interior ( flaps)

The blank of the flaps is app. twice bigger than the previously produce standard stiff cigarette boxes and has been produced of the same paper type. 

The technical drawings disclose actual dimensions. The model samples have been based on these.

The innovative elements in the construction of the box, which are incorporated in the folding system of the out shell, are as follows:

- The box incorporates all graphic features as presented in previously described models 


- The box exterior overprint
one-sided overprint as described above making allowances for the cut-out for glass insertion and a gadget 

- the overprint on a PCV glass
There is, of course, a possibility of printing the PCV glass, blister type, in order to gain additional commercial space connected with the glass transparency

- the overprint on a commercial brochure in connection with a gadget
the choice of overprint designs is free. The overprint can be double-sided and/or matching the overall graphic design of the box, clearly visible through the convex glass, blister type, or co-relative with the inscription on the glass and/or the gadget.  

- the overprint on the flaps
as has been described above a toy car has been placed centrally for demonstration purposes. The toy is decreased in dimensions by 2mm on each side in proportion with the cut-out in the hinged lid. It is only visible after some matches have been utilized or the gadget removed.
Special Project for Tobacco Industries. Copyright 2004 - 2012. Mazur Office. All rights reserved.
Patented by Mazur

The website www.mazur-poland.com is only for informational purposes concerning patent, technology and product. The used graphics and texts are only for
company-internal illustration.