II.2. A box with a lid, a small flat glass, matches and a commercial brochure– technical descr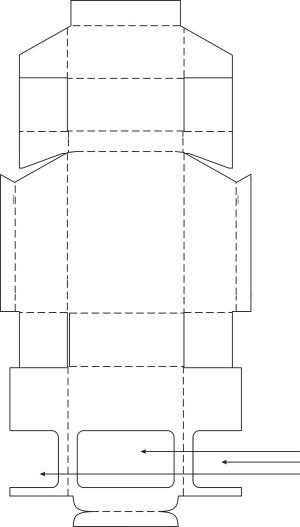 The blank of the flaps is app. twice bigger than the previously produce standard stiff cigarette boxes and has been produced of the same paper type. 

The technical drawings disclose actual dimensions. The model samples have been based on these.

The innovative elements in the construction of the box, which are incorporated in the folding system of the out shell, are as follows:

- The box incorporates all features as presented in previously described models and,

- the cut-out intended for the PCV glass
a small cut intended for the PCV glass insertion make allowances for app. 4mm stripe of paper placed away from the edge. It is indispensable to achieve rounded paper edges bent towards the inside of the box and combined with side walls. It is also essential for glass insertion and the achievement of appropriate hinged lid resilience and durability. 
For presentation purposes, the sample models present maximum breadth of the cut and the glass. It is possible, that in mass production said dimensions will decrease for easier assemblage and glue-bonding. ( i.e. if the breadth of the stripe increases, the width of the glass decreases). The width and the height of the cut is also defined by the flaps extrusion while it makes allowances for appropriate view into the additional storage space and proper positioning on the footing ledge.  The cutting from underneath is defined through the possibility of locating a commercial inscription or warning notification from the upper direction, along the extrusion line of the lid's tip. 

- a small PCV glass
a transparent PCV glass, 0,20 – 0,15 mm thick,  is strong and resilient enough to be inserted in the hinged bottom lid. The cut-out of the glass in enlarged by app. 3-4 mm on each side, in proportion with the cut-out in the lid, for permanent glue-bonding or welding purposes. There is also the possibility to utilize weldable foil or higher quality material e.g. polyester or similar with improved hardness. 

- a commercial brochure
the parameters and features as described above in 1a and 1b or reduced by the size of the glass for better visibility of the content of the additional storage space. 

- matches
are located crosswise with the rows in a pile, of total breadth with sulfur from 2,5 mm to 2,8 mm. The matches can be covered by a commercial brochure or originally visible through adequately adjusted brochure. 

- a gadget
located at will, up to 2,5 - 2,8 mm thick, can be covered by a commercial brochure or originally visible around adequately adjusted brochure.
Special Project for Tobacco Industries. Copyright 2004 - 2012. Mazur Office. All rights reserved.
Patented by Mazur

The website www.mazur-poland.com is only for informational purposes concerning patent, technology and product. The used graphics and texts are only for
company-internal illustration.