II.1c. A blank of the interior of the box ( flaps) –technical description – a blank with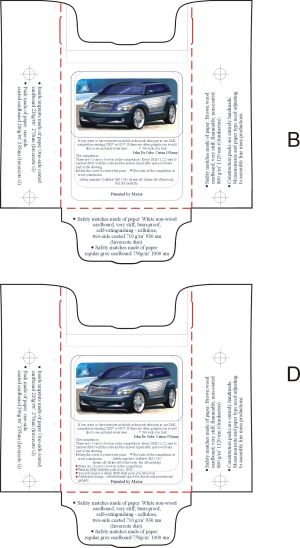 The blank of the flaps is app. twice bigger than the previously produce standard stiff cigarette  boxes and has been produced of the same paper type. 

The technical drawings disclose actual dimensions. The model samples have been based on these.

The innovative elements in the construction of the box, which are incorporated in the folding system of the out shell, are as follows:

- the overprint on the inside of the box
the inner flaps enable additional commercial or informatory overprint on the space similar dimensionally to the front part of the box. The printing, which is clearly visible to the user, is best located centrally under the matches or a gadget.

- the overprint on matches
the use of longitudinal printing of the matches proved better legibility of the inscriptions or commercials when being used. A one-sided frontal overprint of the matches enables legibility on every level of the rows. By applying one-sided printing of the matches' rows one gains two additional frontal commercial areas. The inscriptions on respective rows were printed upside down in relation to each other. The inscriptions thus achieved are arranged in concurrent, multi-layer pile legible from the left, while the bridges conjoining the matches are situated in their lower parts.  The rows were assembled separately, individually and reversely so that the conjoining bridges be located in the rows' lower part. The size, length and positioning of the inscriptions are defined both by an individual match's space and, as described below, the size of the glass.
Special Project for Tobacco Industries. Copyright 2004 - 2012. Mazur Office. All rights reserved.
Patented by Mazur

The website www.mazur-poland.com is only for informational purposes concerning patent, technology and product. The used graphics and texts are only for
company-internal illustration.