I.5. A box with a lid, a large convex glass, and a lighter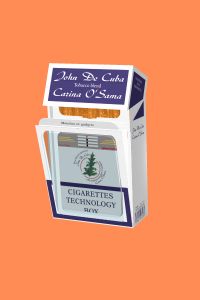 The box featuring a large convex glass evidently combines all the functions and advantages of the solutions with a glass mentioned above. However, it is only with this model that the possibility to include a lighter in either a mass production or occasional kits is provided both for a potential producer or a customer. A customer can place a lighter inside the box constantly keeping an eye on it and being able to store it in one's favorite place. The lighter bought separately, or packed alternately with another gadget can later be stored in the additional space after the gadget has been utilized thus leaving the space empty for the lighter. In this way the customer can decide at the shop whether to buy a bundle box with a lighter or another gadget, while there still might be one in their possession. The lighter packed in a bundle by a producer may bear the company's logo or a notify message overprint required by the law, which is then easily seen through the glass as an integral part of the box. 
The lighter is located by means of a sliding switch oriented towards the interior of the box, which enables to maintain a vast flat plane for advertisement purposes. Such a design of the lighter precludes accidental switching on of the lighter and facilitates repeatable, unconstrained access to the additional storage space in the box. While using the lighter a user is also able to notice a commercial overprint on the inside of the box (flaps). The ligther is only a recommended option yet the maker has a freedom of choice depending on customer's needs. 
The convex of the glass facilitates insertion and positioning of the lighter or other object in the recess while enhancing stiffness of the lid and protecting the lighter within. A big convex glass enables preservation of hitherto existing packing and transport systems, with minimal changes in multipacks dimensions..     
The technical description with the production technology will be presented in detail in section TECHNOLOGY OF THE BOX.
A flat lighter, app.5,5 -5,2 mm, with extensive commercial space and sliding electronic switch will be described further on in section A LIGHTER.
Special Project for Tobacco Industries. Copyright 2004 - 2012. Mazur Office. All rights reserved.
Patented by Mazur

The website www.mazur-poland.com is only for informational purposes concerning patent, technology and product. The used graphics and texts are only for
company-internal illustration.